I always seem to have extra bananas in the house.
I would see bananas and think, "nice!", and buy some. The next day they would become ripened and I would have to do something with them pronto, before they had to be thrown out.
One of my favourite banana recipes has to be this one. It is quick and fuss-free. The muffins can be frozen for up to three months, so any time I have a need to feed the
pigs
teens in my house, I could always thaw these muffins in the microwave and have sustenance on the table within 10 minutes or so.
Here's how to make them.
In a large bowl, I sifted flour, bicarbonate of soda, baking powder and salt. Into this, I added brown sugar.
In a second bowl, I whisked together buttermilk, eggs, vanilla extract and melted butter.
In a third bowl, I mashed the bananas. Some times, I leave some bits chunky.
I added the wet ingredients to the dry ones. And mixed.
The mashed bananas were added to the batter, and folded in.
Do not over mix!!
Over-mixing will result in muffins that are peaked and smooth on top with a tough heavy texture and holes or tunnels.
The batter was dished into muffin cups or muffin tins, if you prefer, and topped with sliced almond.
The muffins were then baked until the tops were golden brown.
That's it.
I try to cool the muffins on a wire rack before I freeze them, but they do not always make it to the freezer, as they taste so good when they are freshly-baked and still warm!
Enjoy :)
RECIPE
Banana Muffins with Sliced Almond (Makes 18-20)
Adapted from "How To Be A Domestic Goddess" by Nigella Lawson
Ingredients:
400g plain flour
4 tsp baking powder
1 tsp bicarbonate of soda
1/2 tsp salt
150g brown sugar
400ml buttermilk
2 large eggs
1 tsp vanilla extract
150g unsalted butter, melted
4 large bananas, mashed
Method:
1. Sift the flour, baking powder, bicarbonate of soda and salt into a large bowl. Add sugar. Stir to combine.
2. In another bowl, whisk together buttermilk, eggs, melted butter and vanilla extract.
3. Pour wet ingredients into the bowl containing the dry ingredients. Stir only to combine. Do no over mix.
4. Add banana. Stir to mix.
5. Place batter into muffin tins or cups.
6. Bake at 200C for 18-20 minutes, or until the tops turned brown.
7. Transfer to a cooling rack to cool completely.
NOTE: Can be stored in the freezer in an air-tight container for up to 3 months.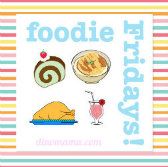 I am also sharing this post with Cook-Your-Books hosted by Kitchen Flavours.
Two 8-inch Cake Stands are still up for grabs!
To take part, click on the following:
a Rafflecopter giveaway